ASIATICA — 40 Years and Counting
This story began in 1977 with an antique shop on Westport Road in Kansas City, Missouri.
ASIATICA (A-si-at-ic-a), the word.
In 1977 while preparing our store at 206 Westport Road, we chose a Palatino Italic typeface that had very nice "a" letters. I decided to have our 30-foot long black awning lettered with our name. A lady walked by the still-empty store as I was sweeping the sidewalk and asked what kind of store was coming. I asked her what she thought it might be, given the name spread across the awning. She replied, "I don't know, but I'm sure it has something to do with Antarctica!"
I should have understood right then and there that I had a problem. I had chosen the name of the store because it said in one word what we were about: ASIATIC THINGS. Needless to say, I was educated in a high school that taught Latin and learned the suffix -"a" meant "things." You know… Erotica, Exotica… Asiatica!
I find myself 40 years later both relishing and regretting the name. It allows me to constantly explain the meaning (these days even the first four letters are challenging and meaningless to countless hotel operators and others). Also, the name does not exactly align with our clothing, perhaps implying something more Asian in style than it actually is. In any case, we will stick with it for another 40.
— Elizabeth Wilson, Asiatica co-founder/owner
Above: Elizabeth Wilson and Karen Brookfield
Over the course of four decades, through an open-minded, instinctive approach to business, Asiatica has evolved into a story that's primarily about textiles, a close-knit skilled team of artisans, high-quality clothing with a subtle evolution of modern design, plus nearly forty years of DISCRIMINATING Asiatica customers across urban cities who've stayed loyal to the brand.
From the beginning, Asiatica co-founder Elizabeth Wilson, a Chinese art historian and former professor, traveled annually to the Far East to buy antiques, furnishings, and objects of desire for her shop. Her philosophy:
Elizabeth had also started buying antique and vintage kimono at auctions throughout Japan, turning that passion into the rare kimono archive it is today. Through the years, she has amassed more than 10,000 vintage kimono, some of which are part of Asiatica's valued collection, others which have been sold to museums or have been on exhibition in galleries, yet most that have been disassembled, inspected and meticulously organized for recycling into contemporary, high-end, one-of-a-kind garments.
Asiatica exhibition at the Dolphin Gallery, 2009, in conjunction with the international Surface Design Conference
Kimono + remnants archived within the shop and studio
It was around 1980 that friend and collector Fifi White joined Elizabeth in the business.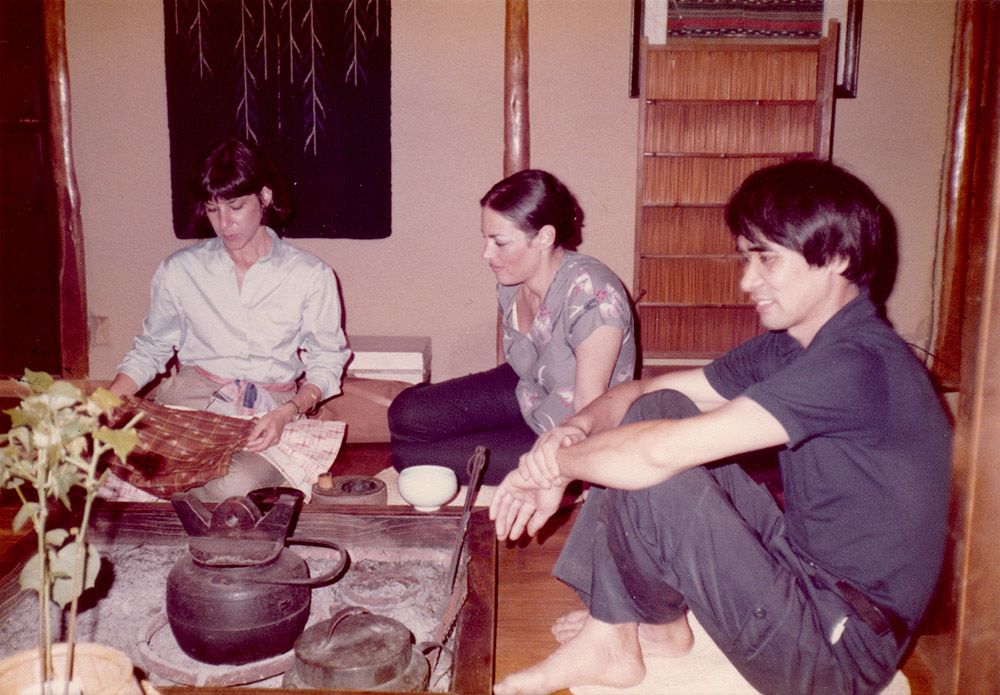 Above: Fifi White and Elizabeth Wilson on yearly buying trips in Japan.
With a shared, deep knowledge of Japanese textiles and design, the two began making contemporary shirts and jackets out of Japanese kimono cloth to surprising success. Quite by accident, the Asiatica clothing line was born.
With demand for Asiatica's unique clothing becoming greater than for antiques, the collection expanded and the workforce of skilled seamstresses grew.
Soon Elizabeth and Fifi set out for major cities across the country to sell directly to customers in salon-type hotel suite settings. (New York City being the largest portion of Asiatica's business from the beginning, and still today, while other cities such as Boston, Washington DC, San Francisco and LA among others remain very strong.)
Asiatica's operation was way ahead of its time for its recycling and sustainable practices with a light ecological footprint.
Asiatica was also visionary in understanding women's needs. The make now/sell now formula allowed instant gratification for its customers—women primarily in the arts and literary fields—who relish in receiving superb customer service and personal attention, as well as the opportunity to buy clothing items unique to them.
In the late eighties, Asiatica sold in Bergdorf Goodman within the Obiko shop-in-shop. Eventually, the decision to return to solely serving its customers directly on its trunk shows became the practical choice, as unique, one-of-a-kind pieces were more highly appreciated in intimate settings, not to mention a hard thing to wholesale.
With sales across the country exceeding expectations, Asiatica opened a second shop on the historic Country Club Plaza in Kansas City, specifically devoted to clothing, jewelry, and accessories. In 1993, it expanded to a third, larger shop and studio on Rainbow Boulevard in Westwood, Kansas.
A Sampling of Asiatica's Brand Imagery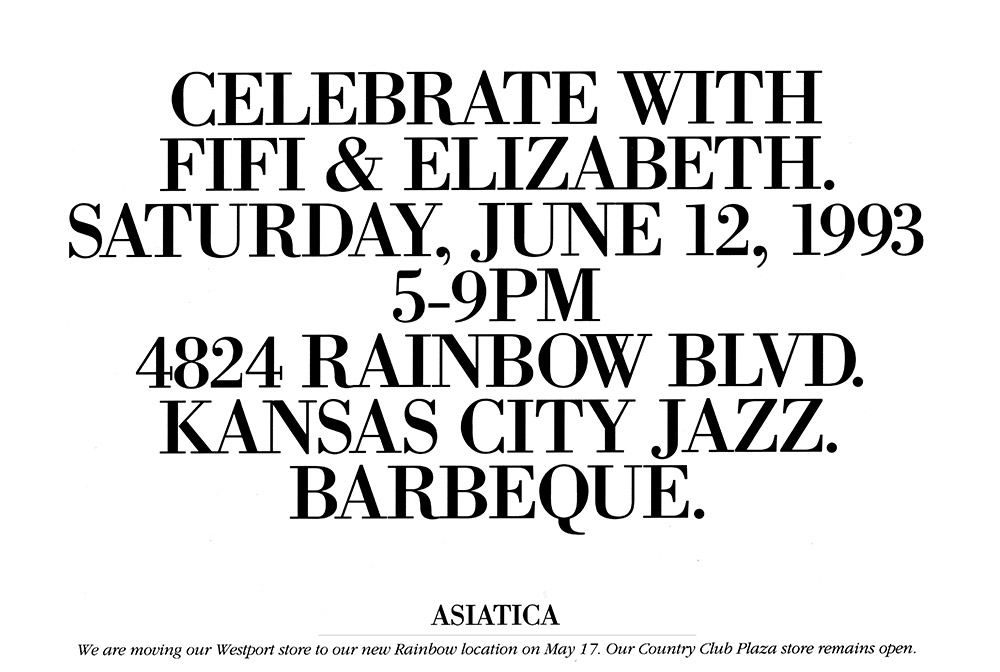 Asiatica Looks from the 90's/2000's
Besides using vintage Japanese kimono cloth, Asiatica incorporates Nuno artisanal contemporary fabrics into the collection, as well as other luxury and technical textiles. Textiles are also made in-house requiring intensive workmanship. With these options, it remains an open-ended yet studied approach that allows for total freedom of experimentation, as well as endless possibilities for unique pieces the clientele appreciates. To know you own something that no one else will have at this level of quality is the allure.
looks made of vintage kimono cloth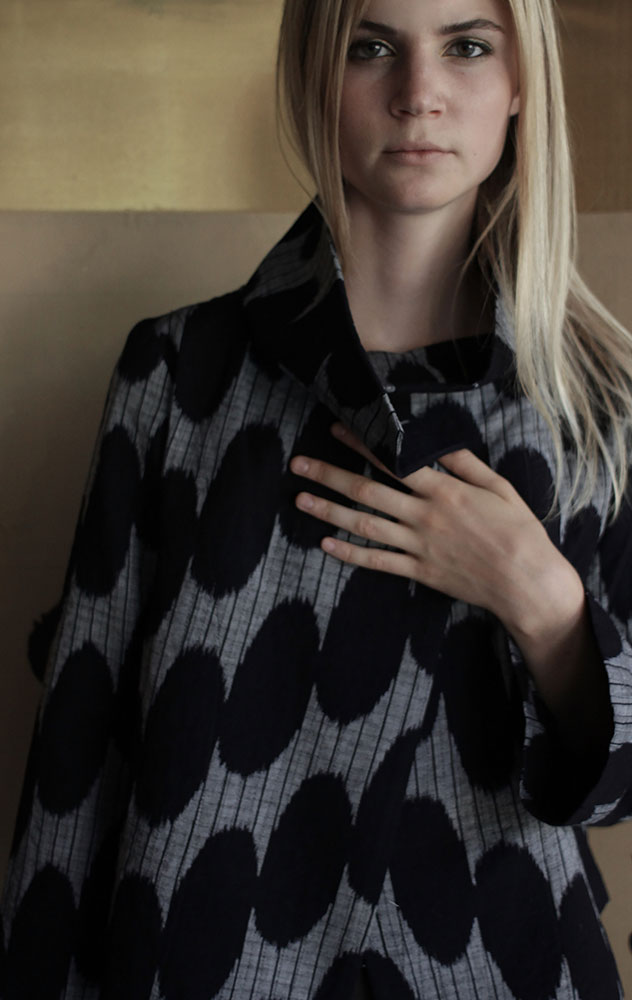 Looks made of Nuno textiles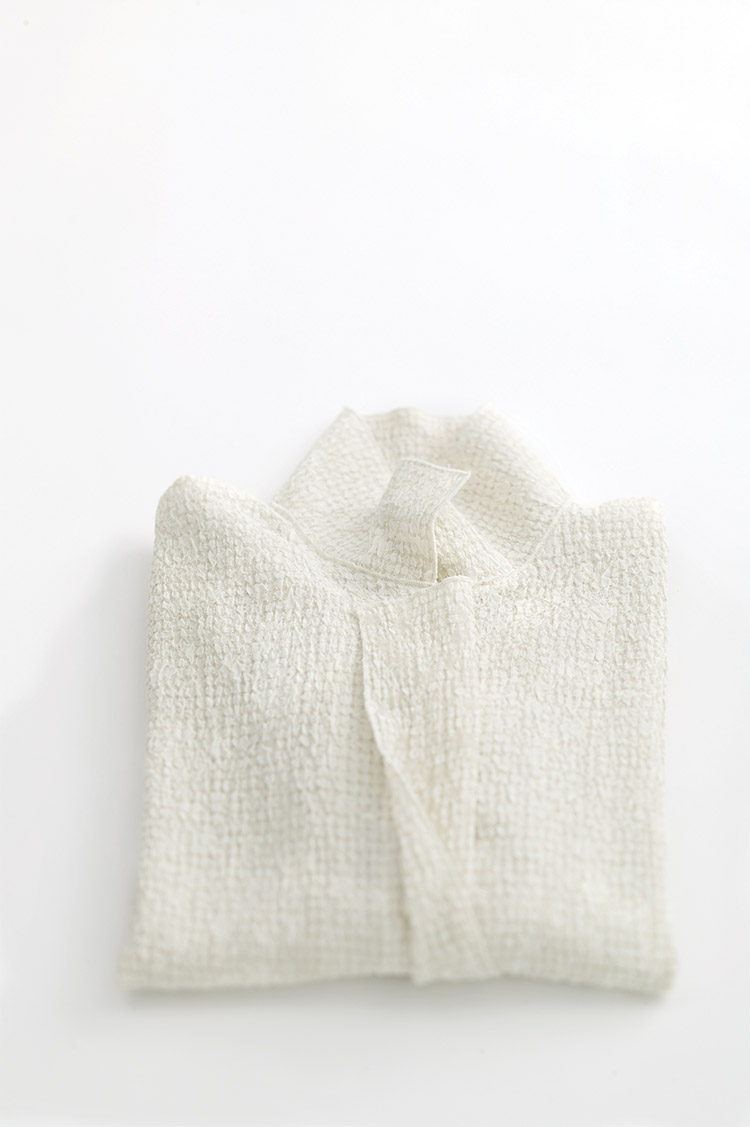 Elizabeth Wilson's simple lessons to live by for small business success:
It's not just about the money.

Keep your eye on the big picture.

Have a strong point of view and express it in your merchandise.

Buy what you know to be of good quality and what you yourself find valuable. It's yours if nobody else wants it.

What's the worst that can happen?

Be able to do it yourself... all of it.

Learn to keep the books and what to make of the numbers.

Hire people smarter and more skilled than you are and understand what they do.

Be generous to your employees, your customers, and your community.

Have a sense of humor.

Be honest and honorable.

Be flexible and open in your thinking.

Keep going as long as you are able.